Jest kilka takich miejsc, atrakcji w Zakopanem, które każdy odwiedzający to miasto bezwzględnie chce zobaczyć. Nie mam tu na myśli żadnych poważnych górskich szlaków. Bardziej miejsca takie jak: słynne Krupówki, Wielka Krokiew czy Gubałówka. W przypadku samych Krupówek niewiele można powiedzieć – wszyscy wiemy czego się po nich spodziewać. Jest to przede wszystkim szlak handlowo-restauracyjny. Co do Gubałówki natomiast jest taka garść praktycznych informacji, które warto znać i którymi chcemy się podzielić.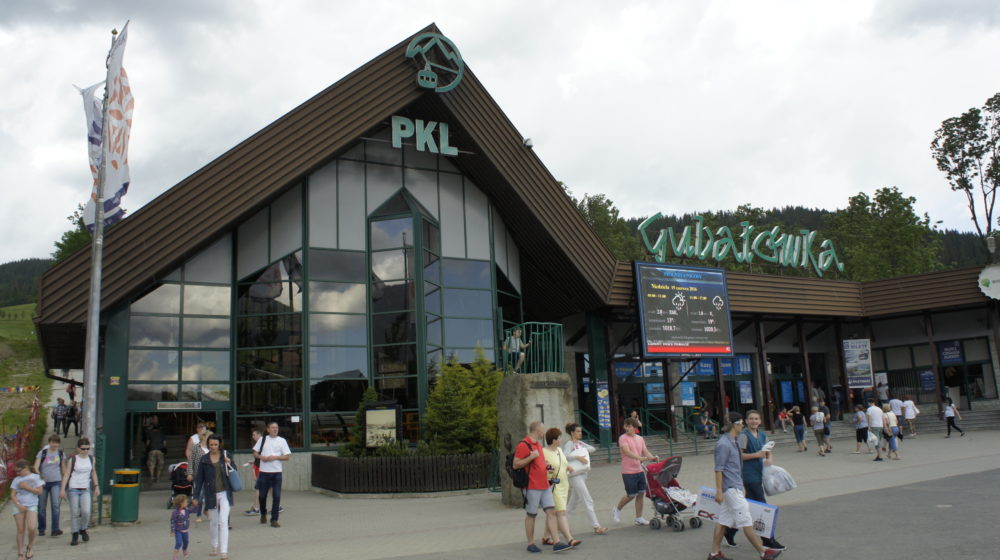 Gubałówka to niewysoka góra, której podnóże znajduje się w ścisłym centrum Zakopanego. Największa popularność tego wzniesienia wynika pewnie stąd, że na jego szczyt prowadzi kolej tzw. linowo-terenowa. To dzięki niej możemy zaoszczędzić sporo czasu, a przede wszystkim wysiłku, aby dostać się na górę.
Kolejka kursuje w różnych godzinach, w zależności od miesiąca, pory roku. W sezonie letnim czyli w lipcu i w sierpniu są to godziny między 8, a 21.30.
Koszt biletu również uzależniony jest od pory roku. Najdroższy bilet kosztuje 22zł. Jest to cena za bilet normalny, tzw. 'góra-dół', w okresie od lipca do września.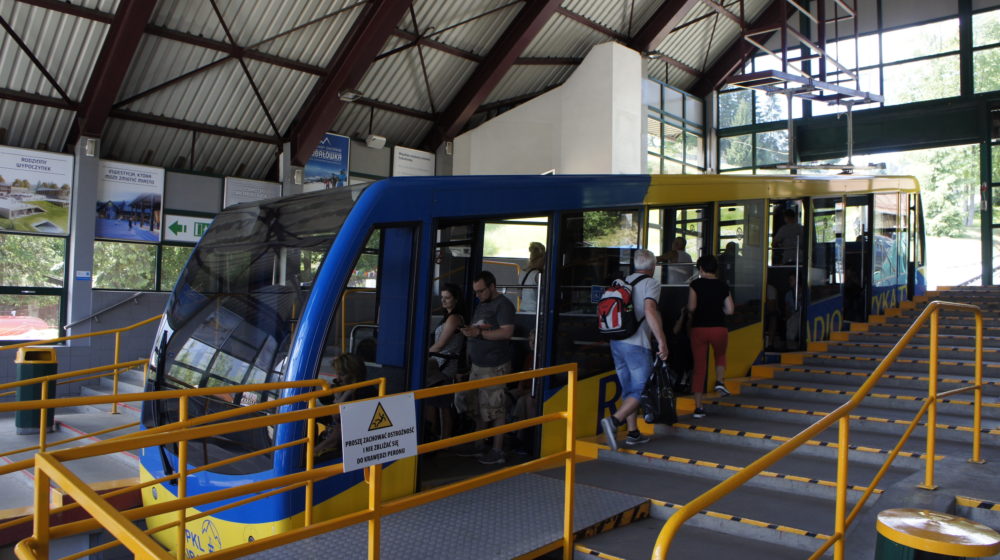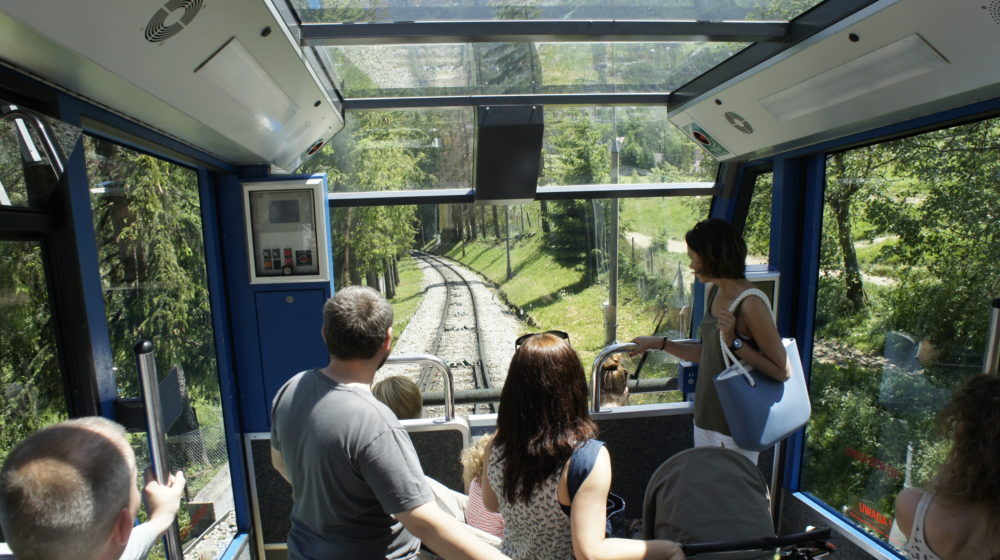 Inna opcja to zakupienie/ biletu tylko w jedną stronę lub biletu łączonego tzn. w jedną stronę kolejką na Gubałówkę, w drugą koleją linową Butorowy Wierch (wyciąg krzesełkowy – 2 osobowy).
Dzieci do lat 4 wjeżdżają bezpłatnie, za wózek dziecięcy również nie ponosi się dodatkowych opłat.
Istnieje również możliwość skorzystania z wyciągu na Polanie Szymoszkowej – wyciąg krzesełkowy 6-osobowy. Koszt takiego wjazdu/zjazdu to 12-15zł za osobę. W tym wypadku, jeśli chcemy powrócić do punktu wyjścia czyli pod dolną stację kolejki na Gubałówkę, musimy się liczyć z dodatkowym spacerem przez miasto, po zejściu z wyciągu.
Tyle jeśli chodzi o informacje praktyczne, głównie dotyczące wjazdu PKLem.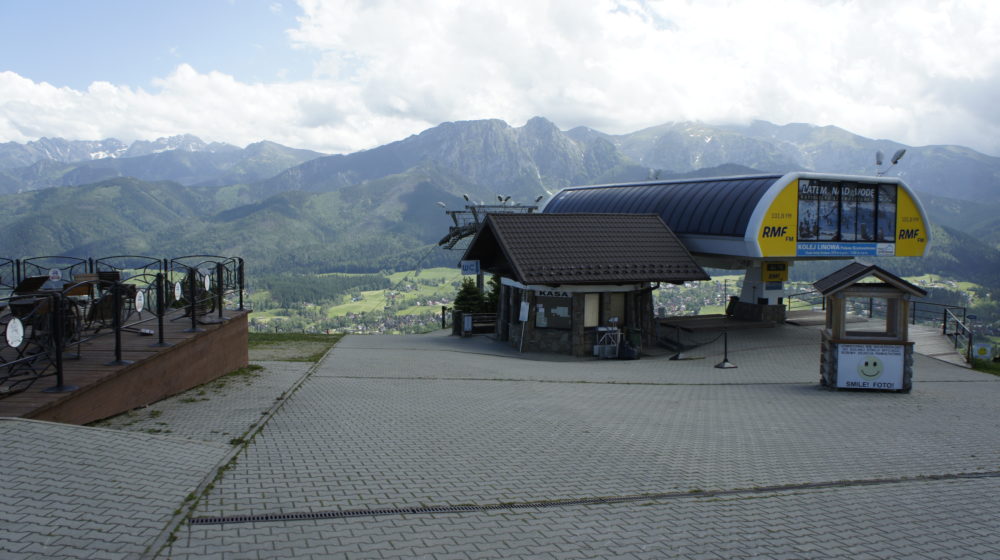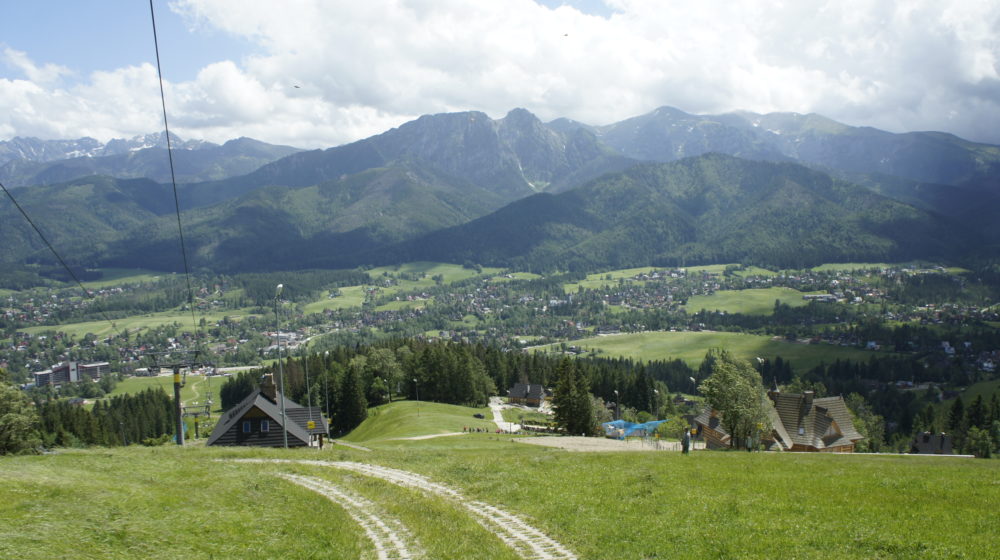 Pamiętajmy, że możemy również wejść na Gubałówkę o własnych siłach – zajmie nam to więcej czasu niż 3,5min (bo taki jest czas wjazdu wagonikami), ale nie będzie nas to nic kosztowało w sensie finansowym. Droga 'piesza' prowadzi równolegle do szyn kolejki. Jest całkowicie niedostępna dla wózków dziecięcych – nawet tych najbardziej wyczynowych (spore nachylenie, wystające konary drzew i kamienie). Za to bez problemu zdobędziemy szczyt z maluchem w nosidle – bez ryzyka i bez jakichkolwiek niebezpieczeństw.
Jeśli natomiast zdobywanie, nawet najniższych szczytów na nogach, nie jest rozwiązaniem dla Was, pozostaje jeszcze wycieczka samochodem. W tym wypadku w grę wchodzi dojazd od strony Kościeliska lub Poronina. Auto bez problemu zaparkujemy na jednym z kilku dostępnych parkingów. Za kilka do kilkunastu złotych mamy auto z głowy na parę godzin.
Kiedy już szczęśliwie dotrzecie na Gubałówkę, pozostanie Wam jedynie korzystać z jej uroków. Podstawowym z nich jest oczywiście widok. Przy stacji kolei znajduje się duży taras widokowy – miejsce idealne aby cieszyć się górskim krajobrazem. Z tego punktu roztacza się panorama polskich Tatr i Zakopanego.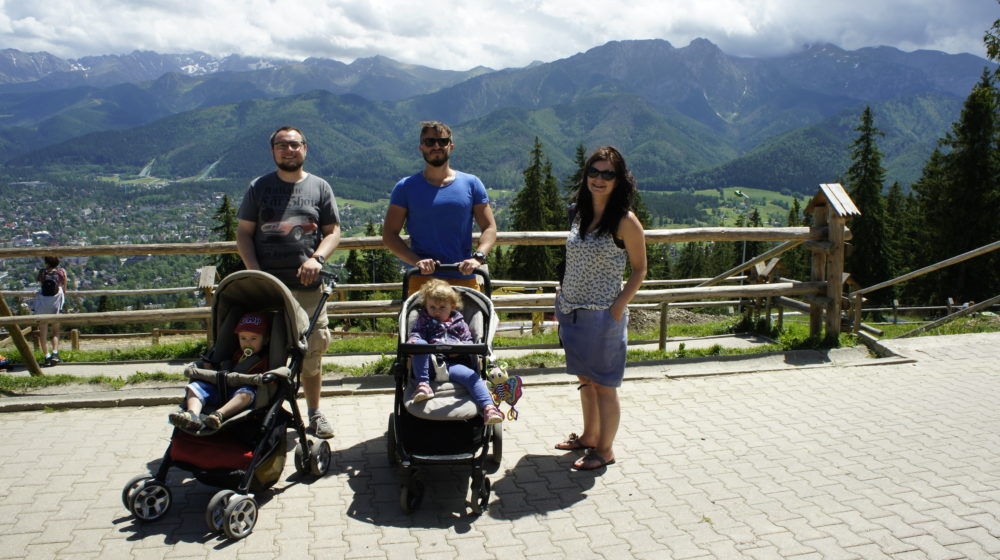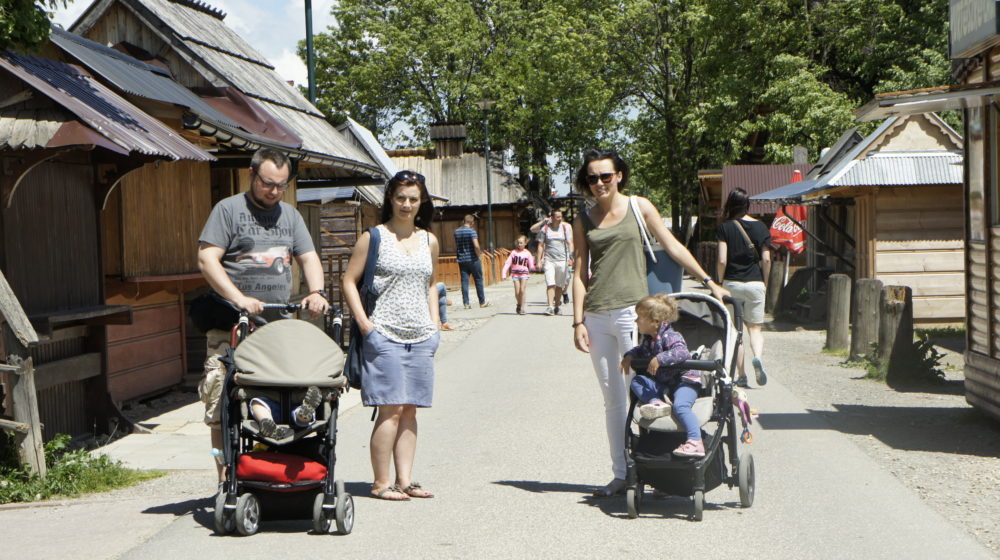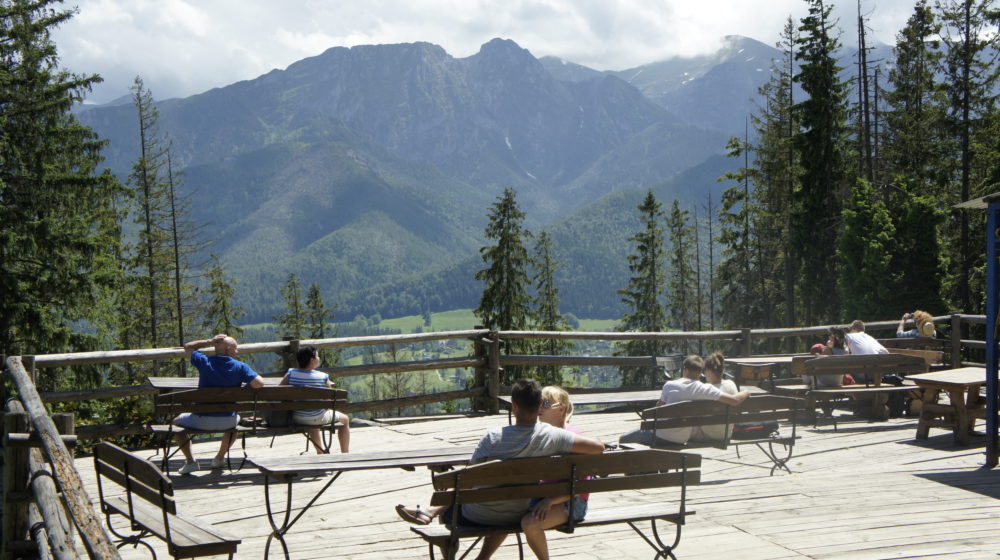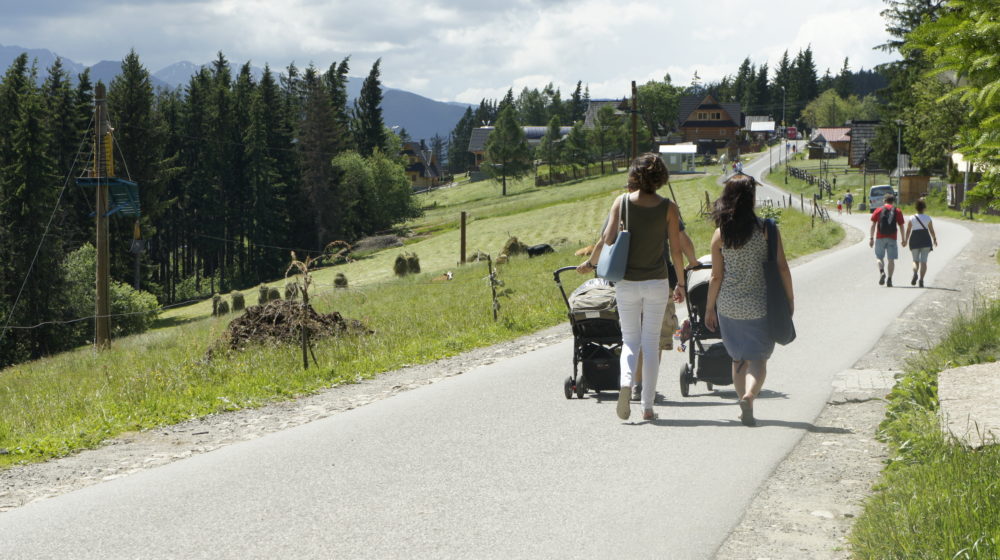 Poza pięknym widokiem, na Gubałówce czekają na nas głównie stragany, bary i restauracje. Możemy też pokusić się o rozrywki takie jak zabawa w jednym z parków linowych lub skorzystać z najprostszego wariantu jakim jest spacer asfaltową drogą pomiędzy Gubałówką, a Butorowym Wierchem. Musimy jednak pamiętać, że tą samą drogą często jeżdżą samochody i przy dużym ruchu turystów, spacer może okazać się mało przyjemny, ze względu na ciągłą konieczność schodzenia na pobocze i jednoczesne ocieranie się łokciami o całe tabuny ludzi.
Po drodze spotkacie jednak konne bryczki, a na okolicznych łąkach pasące się krowy
I to może być prawdziwa atrakcja dla małych mieszczuchów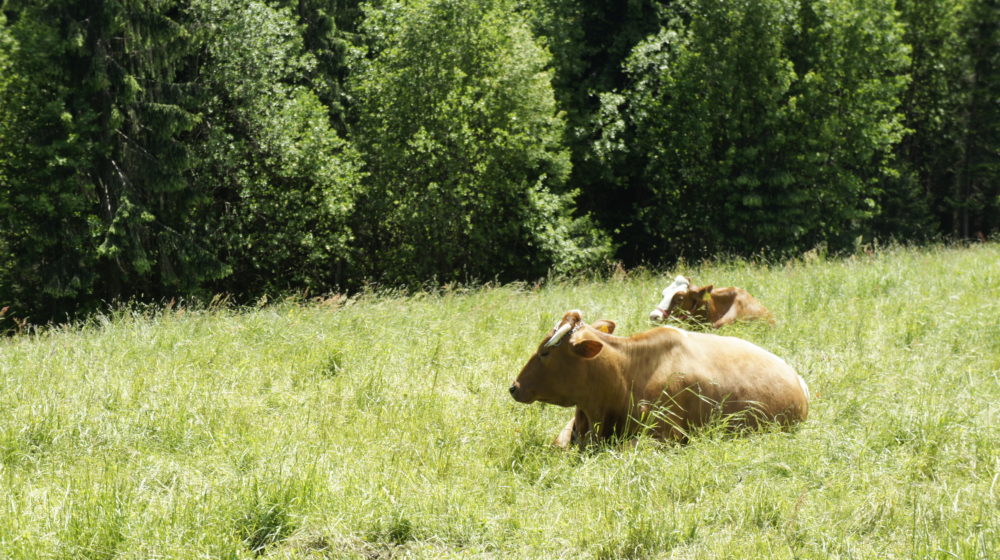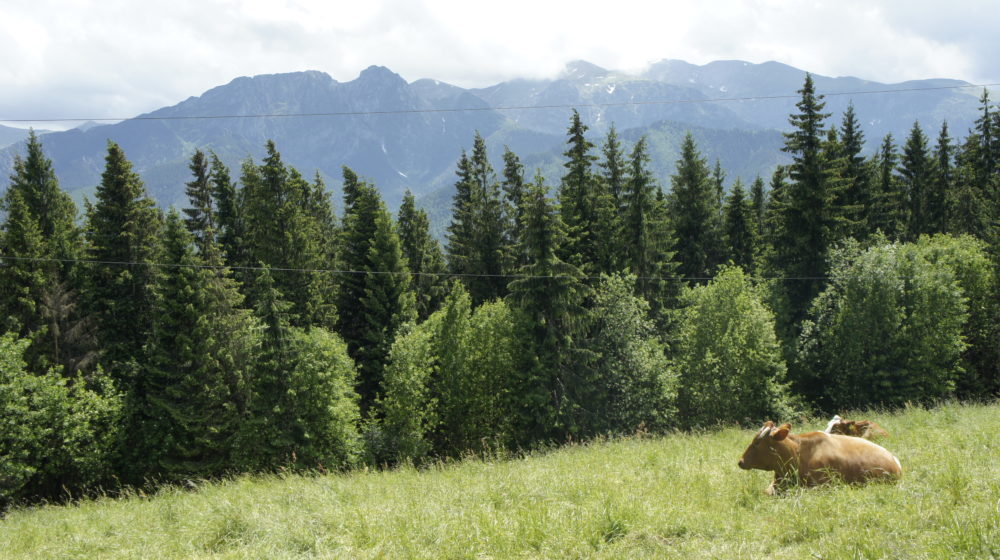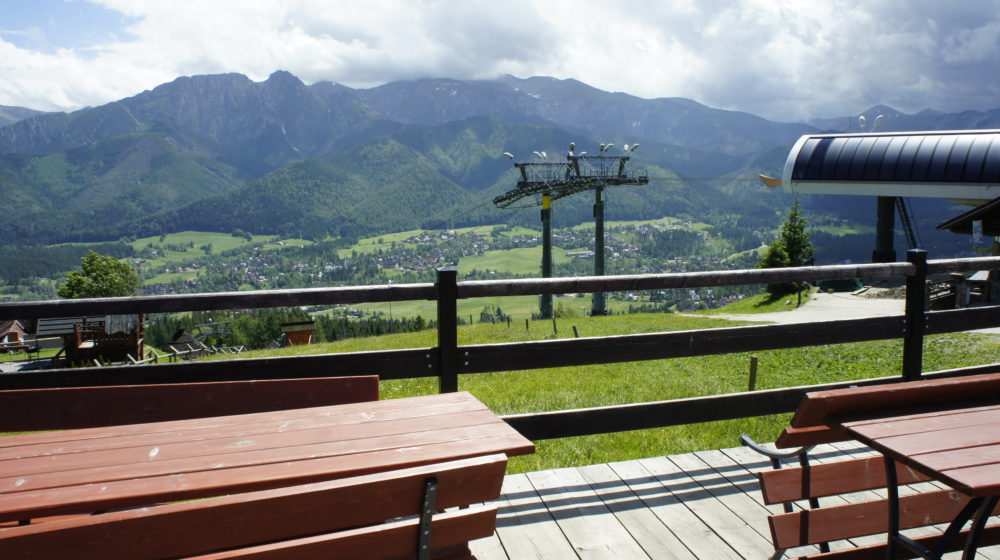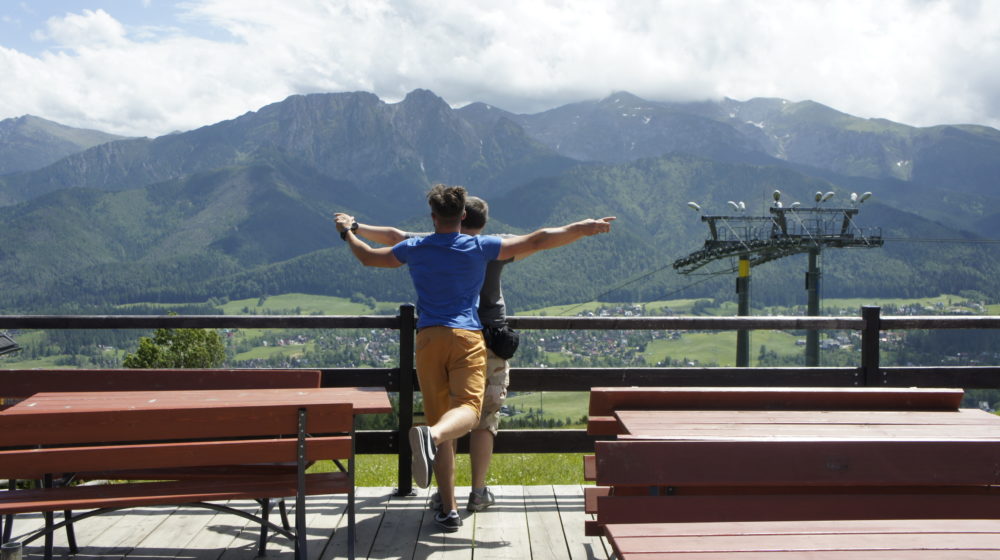 Jeśli zgłodniejecie, sugerujemy wstrzymać się z obiadem aż do zjazdu na dół. Na samej Gubałówce znajdziecie wprawdzie sporo punktów gastronomicznych, jednak żaden z nich nigdy nie zrobił na nas wrażenia. Do największych restauracji tutaj, zaliczyć można Gubałzerię (przy samej górnej stacji) oraz karczmę Honielnik (bezpośrednio sąsiadującą z wyciągiem na Polanie Szymoszkowej). Na pewno wypijecie tu coś dobrego, siedząc na widokowym tarasie ale to by było na tyle jeśli chodzi o wyjątkowe doznania we wspomnianych lokalach.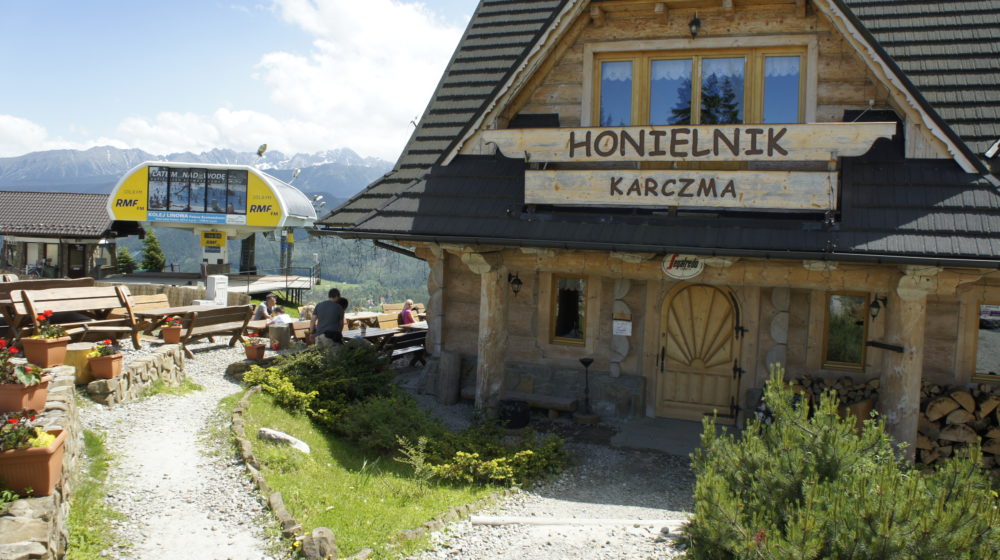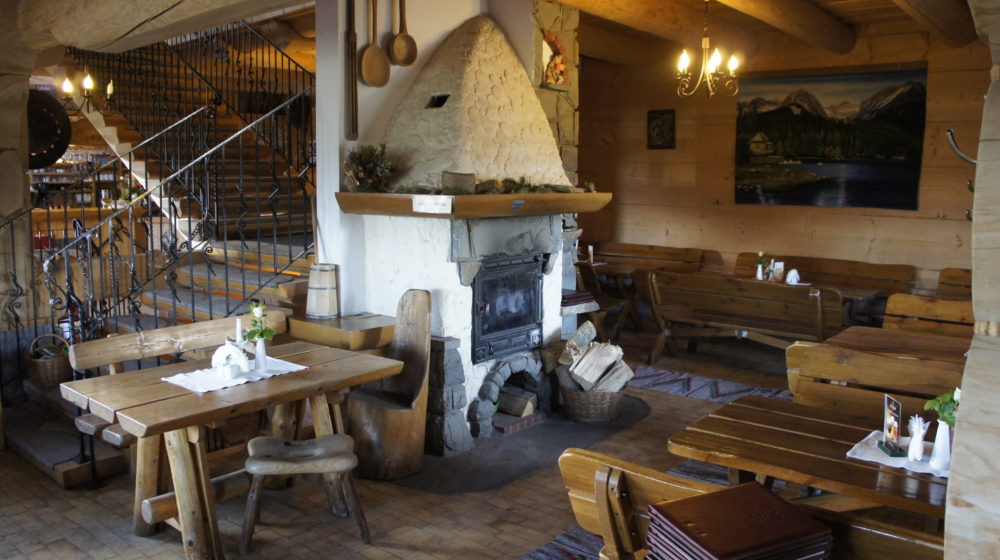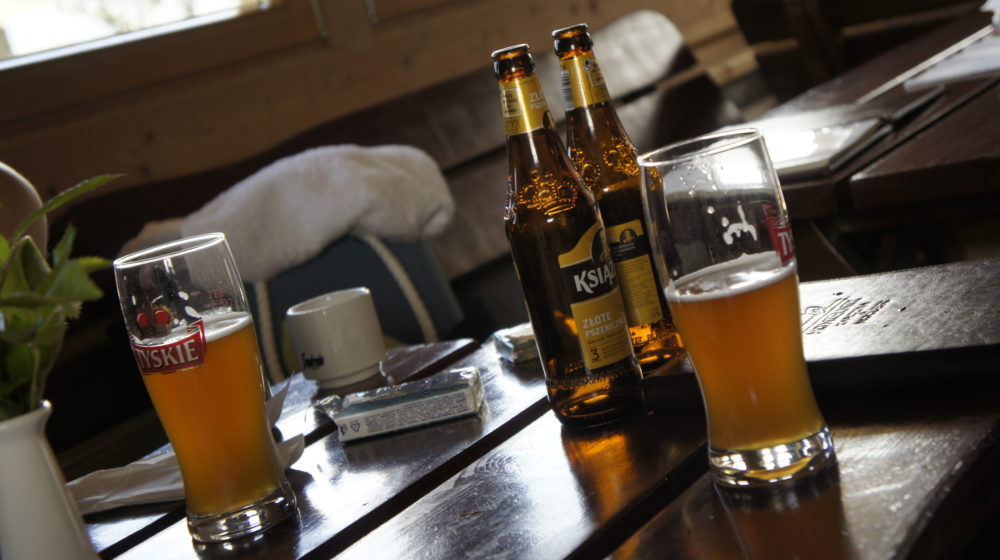 Zanim wrócicie na dół, pamiętajcie aby nie dać się wciągnąć w popularną na Gubałówce grę w kubki
No chyba, że macie za dużo pieniędzy w portfelu! Wiem, że gra jest prosta i każdy głupi wie, gdzie jest ta kulka, ale gwarantujemy Wam, że w tej grze się NIE WYGRYWA – jakby ktoś z Was miał kiedykolwiek jakiekolwiek wątpliwości
Mało tego, jeśli nie chcecie mieć kłopotów, nie komentujcie głośno co sądzicie o legalności gry i o realnych szansach na wygraną
Najlepiej omińcie jak najszybciej miejsce rozgrywek, pilnując torebek i kieszeni i już tam nie wracajcie.
Być może wycieczka na Gubałówkę nie wydaje się specjalnie oryginalna, ale przy ładnej pogodzie zapewnia mile spędzony dzień. Jeśli jesteście typem 'wypoczynkowego', a nie 'wyczynowego' turysty, jest to rzeczywiście miejsce, warte odwiedzenia.